Case Study #4 – From Vision To Joy
Ross one of Skills Tanks Senior Learner Assistants oversees the Barr Beacon project. It is his vision, hard work and dedication that has enabled this project to come so far in not only rejuvenating the green space but in creating a place where students can flourish.
"I think the students appreciate the outdoors more, they appreciate getting involved more and for some students, it is the closest they have come to having a real job," says Ross.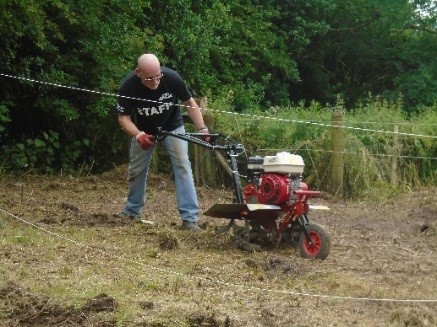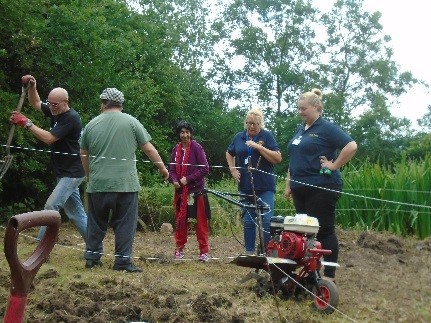 For 18 months now, Ross has helped to support and engage people who have moderate to severe learning disabilities and has been involved in the transformation project of Barr Beacon Lodge and surrounding area – supporting the students to get involved with projects and new experiences to helping revive the Barr Beacon lodge and surrounding area.
The beginning was not without its challenges: "it was literally like a jungle". The area was overgrown and "over the years become a bit of a dumping ground" says Ross. There were initial concerns about how well the project would take off and how students might benefit: "I was enthusiastic about it at first well until I'd seen it!" he goes on to say.
The transformation of the lodge and surrounding area at Barr Beacon has been phenomenal.
Staff and students have worked together over the past year to tidy, enhance and re-build this area ranging from safe outdoor steps to access the lodge, to a vegetable patch in which "the students will be planting and harvesting".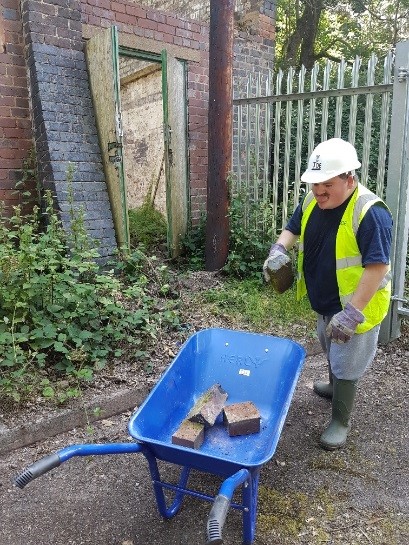 Ross has a keen interest in ongoing projects which will transform the area and continue to provide development opportunities for the students. Adjacent to the vegetable patch, which was roto-cultivated using a roto-cultivator lent to Ross by the local hire shop whos manager has an autistic son and on learning about the project wanted to help, the students will be able to work with staff to help plant wild grass and wildflowers.
A pond will also be built, which will "attract more wildlife" to the area and offer further environmental stimulation and learning for the students. Of note, the concept of creating a sensory room is being considered adding to the benefits of being at the Beacon, providing a "safe space" for the students, with low lighting, soft music and an overall "calming effect".
Ideally, the students will grow their vegetables, harvest them, prepare meals with them and will be able to go to the grounds of Barr Beacon and enjoy a picnic, interacting with one another – with the added satisfaction of seeing things through from the beginning.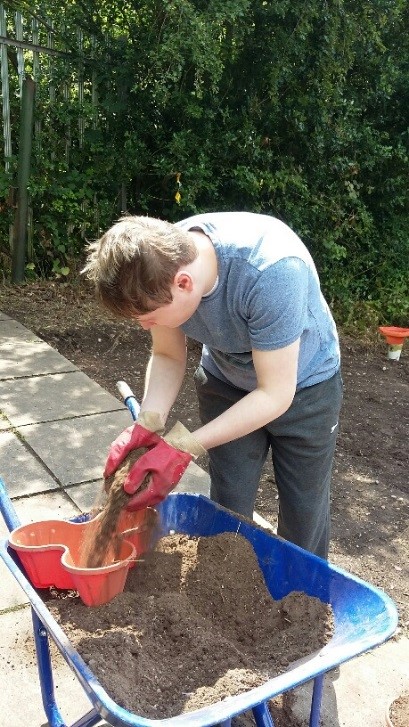 There is always something to do at Barr Beacon, and the students are taking part in daily activities which allow them to get involved and experience the reward of an end-result of their hard work. In addition to outdoor projects, the students can go for walks and appreciate the views and green spaces. They can also choose to stay indoors and take part in different creative activities, all of which have an underlying academic basis in accordance with the Care First curriculum. "That's the beauty of it" – students can autonomously decide what to get involved with each day.
There have been numerous benefits for both the staff and students: "everyone enjoys coming here – they've got the view, they've got the outside". Students have improved their physical fitness, lost weight and have picked up new skills that "if you'd have seen them before", may not have seemed initially possible. Students flourish and enjoy coming to Barr Beacon, where a surprising reduction in behaviour that challenges are seen – which could be indicative of improved mental well-being and self-awareness.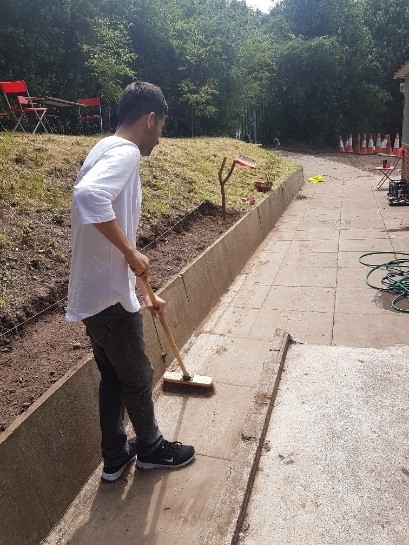 The project has had "a hell of a lot of interest", particularly the impact it has had on the students. "It hasn't been done before", and there is certainly scope for further experiences of a similar nature, both regionally and nationally. The students have benefitted immensely and will continue to thrive at Barr Beacon.