"Stunning Team Effort Pulls Off The Best Summer Fair Yet"
Sat upon perfectly mowed luscious green lawns was a row of green and white pop-up gazebos' – they make great stalls.  These stalls were packed full of produce, such as organic vegetables are grown just yards away in the carefully tended gardens, gorgeous bouquets of fresh summer flowers beautifully finished with all-year-round greenery, fresh homemade cakes and biscuits as well as a range of handcrafted crafts.
You see, everything was made by hand or grown organically by Skills Tank students under the guidance of staff and volunteers.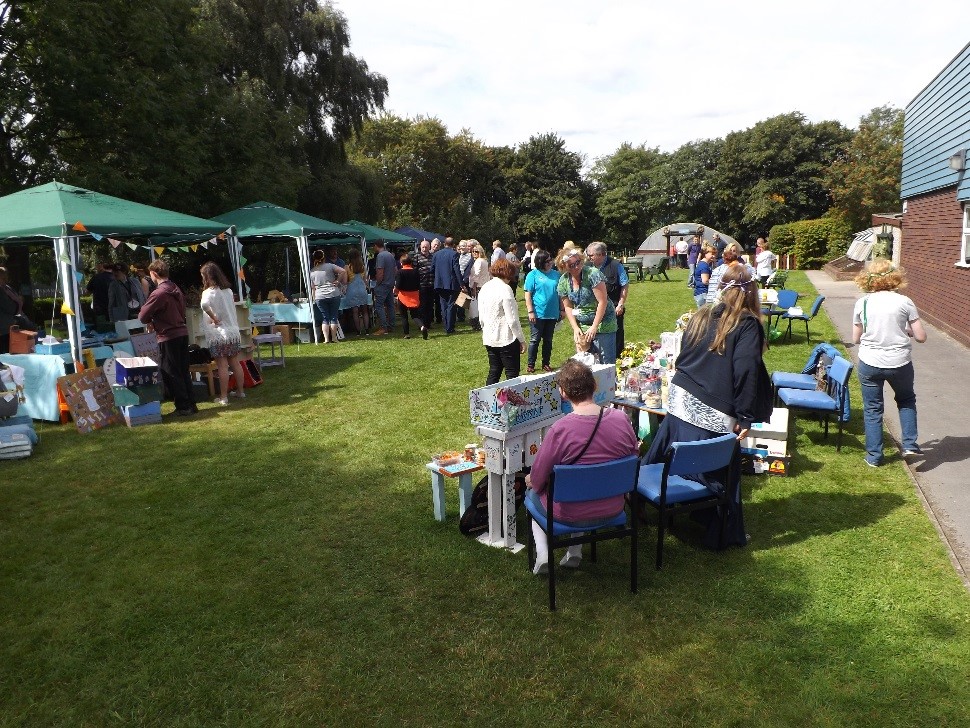 The stalls where courageously manned, mainly by students with learning difficulties/disabilities.  Some are wary of people, not overly confident in their community and are vulnerable. For them, it was a way to safely conquer a fear of dealing with people whilst building self-belief and enjoying the wonderful feelings of 'I did that'.
'Have a Heart', Tamworth Police and Autism Support Group Sutton Coldfield all had stalls too.
Adding to the excited atmosphere were 2 beautiful soul singers with fabulous energy in their voices and a superb steel drums player adding vibrancy and a bit of swing.
The dignitaries arrived early, they included the High Sheriff of Staffordshire and his wife, the Deputy Mayor of Tamworth and his wife along with local councillors.  Just as important many, many, proud mums, dads, brothers, sisters, aunties and uncles all came too.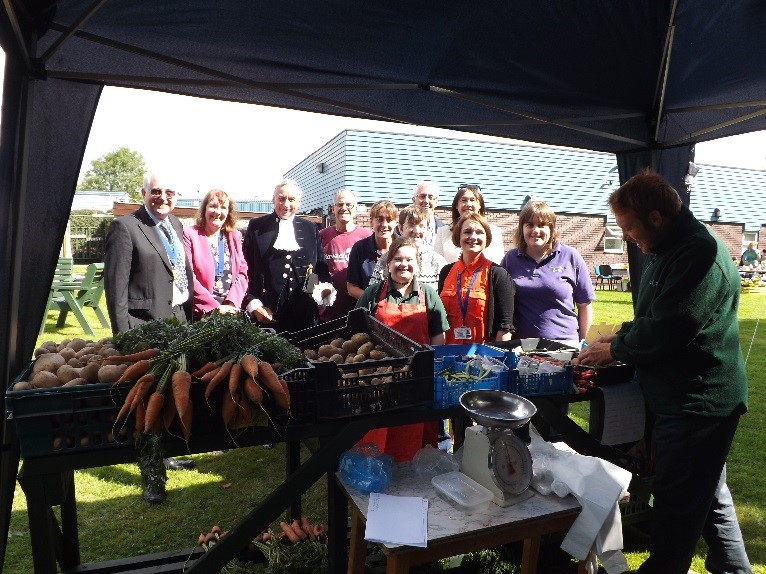 The car park was soon full, parking on the road became scarce and come 12:40 the café was standing room only, with queues at both serving hatches.  The smiling students serving in the kitchen and outside at the barbeque soaked up the happy vibrant atmosphere, enjoying that buzz a bit of success gives us all.
Everyone was jubilant in their support and a little frivolous with their spending!  Great news, as all the profits are being donated to 'Have a Heart' Foundation to help save lives across Tamworth.
The fair was a triumph of belief, desire and courage as the whole thing from an idea, to planning, to making and growing was designed and promoted by adults with learning difficulties/disabilities who attend Skills Tank Tamworth supported by staff and volunteers.
Believe it or not, it all started back in that cold windy and wet days of February.  That's the thoughts of having a summer fair and helping to save lives in Tamworth by raising money for 'Have a Heart' Foundation defibrillators.
Skills Tank's students, staff and volunteers have already raised enough money to install 1 lifesaving 'Have a Heart' defibrillator at Silica Road and now they want to raise enough to buy another one to help save more lives in the local Tamworth community.  (If you wish to help us by making a donation please call Maddy on 01827 311752.)
The best summer fair yet?  To make the day as close to perfect as perfect can be shining in the sky was the elusive sun adding warmth and the 'happy factor', so yes it probably was.
Should you wish to work with adults with learning difficulties or you'd like to know more about our provision and what it could do to help you and the adult you care for, please visit www.skillstank.co.uk or call 01827 219471.