Turning despair into joy…
The calming effect that Chris's courses have had has been marvellous.  Brendan is now happy in himself and also happy to mix with people.
Care First, established in 1996, specialises in developing adults with learning difficulties/disabilities, mental health, challenging behaviour and autism.  In fact, any adult who learns differently.
For many of these adults the modern world is very frightening and a difficult place to live in.  They are often excluded, exposed to many forms of bullying and find it difficult to find a calmer happier place to be.  This causes a lot of pent up frustration, disappointment, and unhappiness!
Skills Tank have 10 hubs across the Midlands, and it's our aim to help the adults we work with to overcome their everyday challenges and frustrations, as well as improve the lives of their parents and carers.
Above, pictured with his mother Norah and Managing Operations Director Chris Winter, Brendan used to display extreme behaviour, needing constant one-to-one supervision.
Brendan was born severely autistic and would display extreme behaviour: it was quite common for him to be up all night, jumping up and down on his bedroom floor keeping his family awake.
Today, as you can see, Brendan is a changed person. Not only is he an enthusiastic student who can't wait to leave home in the morning, but he enjoys watching TV with his parents, likes walking, and enjoys meals out.
With thoughtful and patient progress over a number of years, the Skills Tank staff built up a rapport with Brendan which has seen him change from a young man scared to leave his room, into an enthusiastic adult.
He attends Skills Tank every weekday and enjoys painting, playing sport, visiting the shops and the park and has developed his numeracy skills through these activities.
I can't begin to explain to you the difference in him," says Norah Gallagher. "We couldn't socialise, we couldn't take him anywhere – he would run off. He would often be up in the night jumping on his bedroom floor. It was a nightmare. He wouldn't mix with us as a family and had his own room downstairs.

Thanks to Skills Tank he is now much easier to manage. It used to take me half an hour just to get him from the house into the transport for college. Now he gets up with no problem and he can't wait to get there. At home, he now sits with us most of the time and will watch TV. We can take him out for meals and we go out walking a lot.

The calming effect that the courses have had on him has been marvellous. Brendan is happy in himself and also happy to mix with people.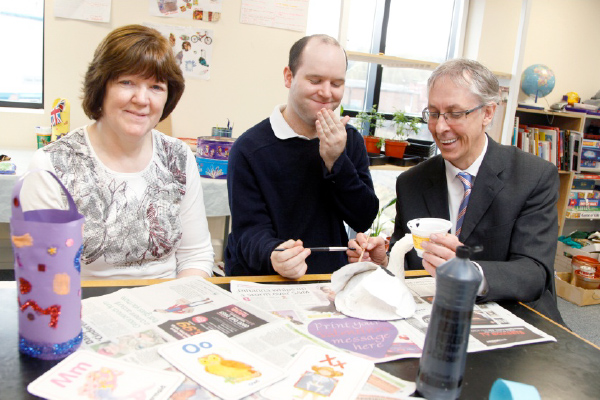 This transformation has also given Norah and husband Brian more freedom to socialise. They have joined an Irish dancing group and after years of staying at home, they can now go away on holidays. The improvement in Brendan means their two grown-up daughters can look after him while the couple are away. 
If we hadn't met Chris, and Brendan hadn't had the chance to go to Skills Tank, I don't know where he would have ended up after special school," said Norah. "He would probably have had to be locked away and we wouldn't want that. He can now enjoy life, and that's what we want for him.
All over Birmingham Skills Tank is helping carers like Norah and Brian have a better life but just as importantly it's helping adults like Brendan with learning difficulties/disabilities, challenging behaviour, mental health, and adults who learn differently have a better, happier and more fulfilled life.
For more information please contact our Admissions/Transmissions Team on 0121 308-6555