"Breathing real life into learning"
Wednesday, October 16th – Bordesley Green Skills Tank, bringing reality into their learning session plans on fire safety around the home and their Skills Tank hub.
To take learning out of the hub and into the community, Zaiqa Qurdan, Hub Manager, rang the local fire station on Washwood Heath Road and booked a morning trip for her students and staff.
The minibus taxi arrived and the students, buzzing with excitement set off to explore the fire station. Learning about fire safety from real fire people, having hands-on experience in a live fire station and seeing with their own eyes, how the equipment works is far better than pictures and props.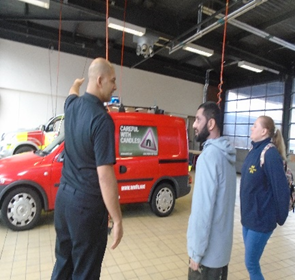 On arrival, the on-duty Fire Marshal quickly put the students at ease and made everyone welcome. Everyone enjoyed the tour.  The students looked, touched, smelt and listened to the workings of the fire station.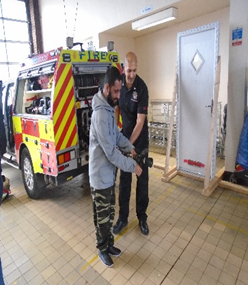 They visited the gym, sweet smells from the kitchen lured them in and then off to see the fire engines and support truck. Sitting in the fire engines driver's seat flicking the flashing lights on and off whilst looking at the array buttons and switches in front of them brought on wide eyes and contented smiles!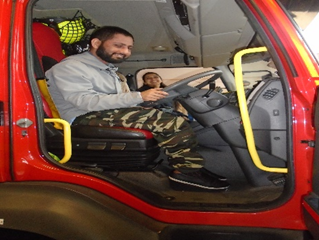 Amazed students shocked by the weight of a fire persons protective kit, wrestled to get it on. All struggled and made it, with some help. Then they watched in round-eyed wonder at the speed the experts do it, in less time than it takes the students to slip on their shoes, the experts were dressed and ready to fight fires.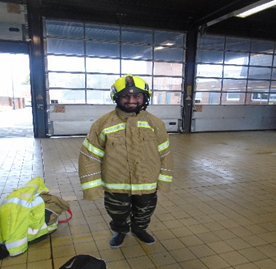 With the fun stuff done it was question time. Students asked what numbers to call in a fire and how long does it take the fire engine to leave, how long does it take the fire engine to get to a fire, had they ever been scared? The staff helped, of course.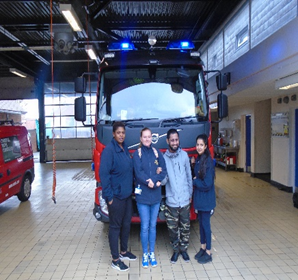 Questions answered it was time for photographs and to call the taxi to go back to Skills Tank Bordesley Green.
Arriving back at the Skills Tank hub, the students had lunch and then it was time for a discussion with Zaiqa and her staff to show what they learnt about on the trip, what they should do if a fire occurs and how they should protect themselves.
The fire station trip benefited the students as they experienced through four of their five senses the importance of fire safety, and why we must carry out fire drills at Skills Tank as well as what they would need to do in a fire.